'Last Christmas' by Wham!
There are two versions of this well known Christmas pop song here.
There is a more straight forward one with only 5 chords and a harder instrumental version tabbed out to reflect the keyboard part in the song.
Enjoy them both!
---
The 'Chordal' Version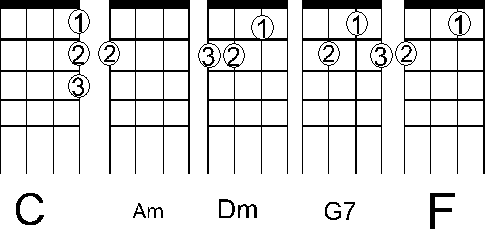 C
Last Christmas, I gave you my heart
Am
But the very next day you gave it away.
Dm
This year, to save me from tears
G7
I'll give it to someone special. (x 2)

C
Once bitten and twice shy
Am
I keep my distance, but you still catch my eye.
F
Tell me, baby, do you recognize me?
G7
Well, It's been a year, It doesn't surprise me etc.
---
The Tab Version.
This more challenging version can be played over the top of the chords with a friend! Good luck! Try playing along with Mr C on the recording...?
A --5--5--5--5--3--3--3--3--|--5--5--5--3--3--5--7---|-
E -------------------------------|----------------------------|-
C -------------------------------|----------------------------|-
G -------------------------------|----------------------------|-
A --3--3--3--3--2--2--2--2--|--3--3--3--2--2--3--5---|-
E -------------------------------|----------------------------|-
C -------------------------------|----------------------------|-
G -------------------------------|----------------------------|-
A --8--8--8--8--7--7--7--7--|--8--8--8--7--7--8--8---|-
E -------------------------------|----------------------------|-
C -------------------------------|----------------------------|-
G -------------------------------|----------------------------|-
A --5--5--5--5--3--3--3--3--|--2--2--2--0--0--2--2---|
E -------------------------------|----------------------------|-
C -------------------------------|----------------------------|-
G -------------------------------|----------------------------|-