Oasis - Songbird
Short, sweet little song from the Manchester band with only three (two at a push) chords!

Note the 'unusual' D chord fingering. Give it a go you might find it easier to get from one chord to another? If not then you can always revert to the standard 1230 fingering!
First the chords;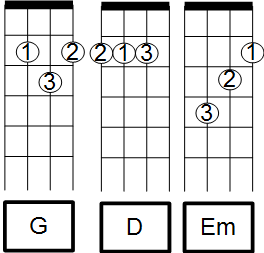 Now the counting..it's all very cyclic - round and round!
G |G D |Em |Em D |
12345678|123456 78|12345678|123456 78|
...simply repeat round and round!
It's in the same key as the original so jam along...or sing your own version with the lyrics below!
---
Songbird by Oasis





[Verse 1]





G

     




Talking to the songbird yesterday




                       

D

     

Em




Flew me to a place not far   away





She's a little pilot in my mind




                         

D  

      

G




Singing songs of love to pass the time





Gonna write a song so she can see




                          

D 

       

Em




Give her all the love she gives to me





Talk of better days that have yet to come




                               

D  

     

G




I've never felt this love from any  -  one




[Chorus]




G




She's not anyone




          

D 

   

Em




She's not any  one




                    

D

    

G




She's not anyone




[Verse 2]





G

  




A man can never dream these kind of things




                             

D 

        

Em




Especially when she came and spread her wings





Whispered in my ear the things I'd like




                     

D

      

G




Then she flew away into the night





Gonna write a song so she can see




                          

D   

     

Em




Give her all the love she gives to me





Talk of better days that have yet to come




                          

D 

  

G




Never felt this love from any-one




[Chorus]





G




She's not anyone




          

D 

   

Em




She's not any  one




                    

D

    

G




She's not anyone




[Outro]





G D Em D G




  

D Em D G